Step 2: Use full bleed
Most printers are not able to print right up to the edge of paper. This can result in a white border around your content. In order to achieve a design that extends all the way to the edge, use a printing technique called full bleed. This allows the printed document to be trimmed to give you the desired visual layout, with no obtrusive white space.
If you are printing from home, test one print brochure to make sure the bleed is what you predict. If you are using a professional printer or copy shop, contact them to make sure your brochure will look as predicted.
Step 3: Add your text
Decide what you want to say in the front cover, back cover, and body of the brochure. Make sure that your message is consistent and easy to understand. Front covers sell your product or service, back covers provide contact information, and the inside page usually tells a story or provides pricing options (different types of drinks served at a cafe or spa packages, for example).
When it comes to fonts, less is more. Choose one font for the body of the text, with a complementary font for titles or headers. Complementary fonts are two fonts that are different enough to look deliberate. They often will be a serif font and a san-serif font.
Use simple, easy-to-read typefaces without an excess of flourishes to better communicate with your readers. Choose a font color that is easily legible against your background color. Dark fonts stand out against light backgrounds, and vice versa.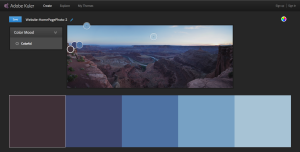 Don't go overboard with colors. Two or three well-chosen colors is better than the clash of too many.
Step 4: Incorporate color
Using color well in your brochure enhances your message visually and emphasizes specific points. Color is closely tied to emotion. Using a color scheme that is consistent and pleasing provides a better experience for your reader than one which is too loud, busy, or difficult to read.
There are several resources online to help you find colors that work well together. The color wheel on Adobe's Kuler has several color palettes to help you choose a balanced scheme, including monochromatic, complementary, and compound colors. You can save your color swatches, then refer to them to choose colors for your brochure. Color Scheme Designer has more advanced options such as colorblind settings and exporting to HTML and text files.
Step 5: Choose the right size
Standard letter size is 8 ½" × 11″, and this is a good starting point for print-at-home flyers.
If you cut your paper in half, you'll have a 5 ½" × 8 ½" flyer. Be sure to print a test flyer before making hundreds of copies.